Professional Wedding Hair
At No.45 Hairdressing we know that every wedding is unique, and we will happily tailor our services to your individual needs. As professional hairstylists, we'll put you at ease. Make sure that your hair is exactly as you would like it, so you can enjoy a very exciting and memorable day.  
We recommend a wedding hair trial for all brides 8 to 12 weeks prior to the wedding day. A bridal hair appointment is for 60 to 90 minutes allowing ample time to perfect your style. 
We also offer trails for bridesmaids to make sure you are all happy with your hair prior to the wedding day.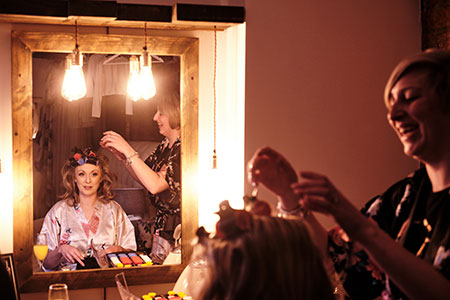 We are here to help you create a perfect wedding morning. It is important to us that you decide where you want to spend your wedding morning, whether it be in the salon in Bath or alternatively we can travel to you – either at your home or wedding venue.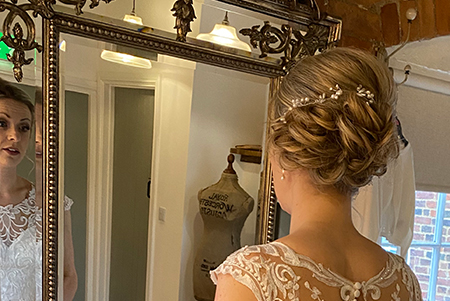 What Do Our Customers Say?
Pre-wedding
"Tash from No.45 Hairdressing has been my hairstylist for years. When I got engaged she was the first person I booked for the big day. 
From start to finish she was fantastic. Tash helped me create a style that would suit not only me personally but also the cut of my dress. 
During the trial session, Tash was brilliant at listening to my likes and dislikes. And adapting the design to ensure I was 100% happy and felt confident with the final look."
On the day
"On the day of the wedding, she was so calm and helped keep me stress-free. Not only did she have myself to style but also my two bridesmaids, two flower girls and mother's hair. Everyone was so thrilled with the final results."
After the big day
"I couldn't recommend Tash and the services No.45 Hairdressing provide enough.
Thank you for making us all feel and look incredible on my wedding day."
Wedding Venue - 1 Stylist
One of our wedding hair stylists will come to the wedding venue in the morning for 2 hours. 

£30 for every additional 30 minutes.
Wedding Venue - Additional Stylist
This is for an additional wedding hairstylist to attend the wedding venue for 2 hours. 

£30 for every additional 30 minutes.
A Thank You For the Photography
The photography on this page was kindly supplied by Stuart James Photography.